Prefer to listen to us read this article? Click below!
Even as society is beginning to stray from owning watches when they can sneak a peek at their cell phones, watches are an important accessory for the classically fashionable woman. Just like she can never own too much jewelry, owning too many watches is just as much an impossibility. Even still, a woman may want to know exactly how many watches are necessary to create the perfect wardrobe.
In general, women tend to own 3-5 watches. The choice of how many watches to own is usually dependent on a woman's professional environment, fitness routine, and social lifestyle. Even though having 3-5 is typical, a woman may prefer more or less than that amount for various reasons.
In this article, we'll discuss the 4 best styles of watches for a girl to have in her wardrobe, and the best times to wear them. Most women will want a sporty watch, a casual watch, a professional watch, and a dress watch. These four styles combined can cover any event that a woman will need to attend.
The Sport Watch
The first, and the least fancy, of a woman's watches will be her sport watch. These are generally made with plastic and other less breakable materials, and the majority of them will feature a digital clock, instead of an analog clock.
Having a digital clock on your sports watch will allow for easier keeping of time during your fitness routine, especially because it counts hours, minutes, and seconds. Sports watches also come standard with timers to simplify timekeeping even further.
Sport watches are made to withstand extra stress, so they're perfect for when a woman needs to exercise but needs to make sure she doesn't spend all day doing it. Most sports watches these days are equipped with waterproof features to withstand depths of more than 300 feet below the surface. Additionally, these watches are built to last through big impacts and erratic movement. That being said, don't try to overdo it.
If you're a woman without a fitness routine, then you probably don't need a sports watch. Even those who do have a specific routine may not need to have a sports watch, whether it's because you don't have much else on your schedule, or you're fine to depend on your phone for the time that you're exercising.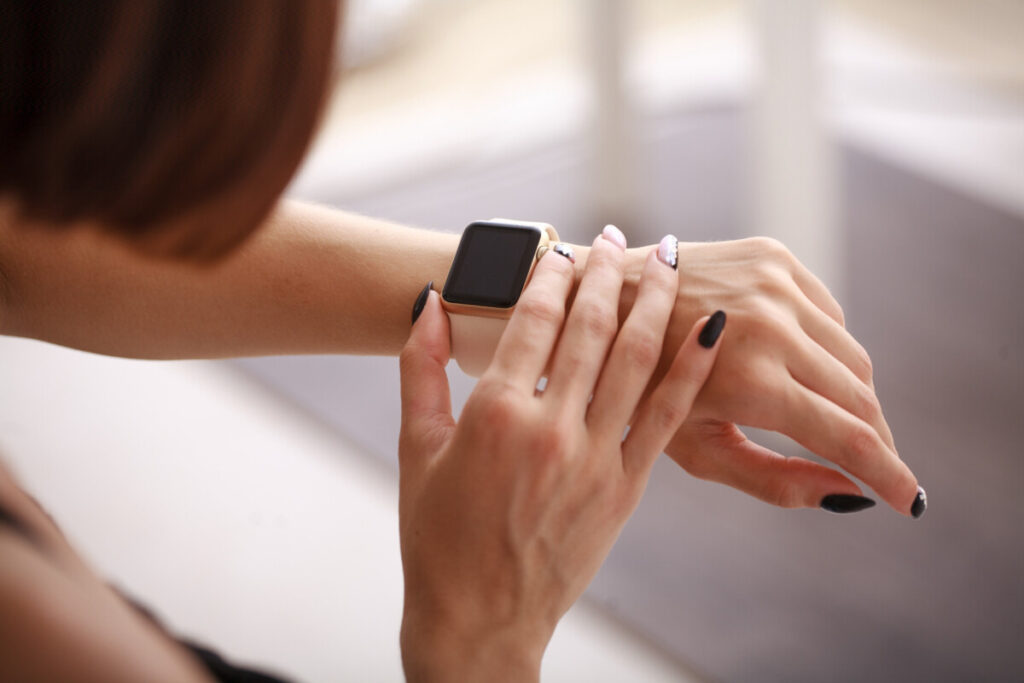 The Go-to Watch
This is arguably the most important watch in a woman's wardrobe: the go-to watch, also commonly known as the casual watch. This watch will be the one that she'll wear 90% of the time because it goes fabulously with any other pieces she'll be wearing.
Some argue that the best colors for a woman's go-to are monochromatic, neutral colors, like nudes, grays, blacks, and whites. Others, like me, believe that a woman's go-to watch should be the one that best expresses her personality. This should not only be her go-to watch because she can match it with anything, it should be her go-to because it's her favorite watch. Women shouldn't be afraid to let their personal style reign free when choosing this watch.
For some women, a go-to watch will be a large, stately piece that is solid-colored and vastly simple. For others, their casual watch will sport bright colors, creative shapes and patterns, and smaller sizes. Two-toned or rose-gold watches are some more great choices for a woman's go-to, being classic choices that stand the test of time and are easily able to be dressed up or dressed down for any occasion.
The Business Watch
When you hear the word 'business', you might think of the same things I do: dark colors and serious vibes. In some ways, your business watch should stick close to those words, but it can still be gorgeous.
With a business watch, you want to make sure that it's fancy enough to be labeled as professional, but not fancy enough to be considered showy and dressy. Sleek, metal watches are a great option for business watches. Make sure to pick solid, neutral colors, too. It doesn't have to be black, but you shouldn't stray into bright, blingy rainbows with this style of watch.
Additionally, keeping business watches on the smaller side will help them to just accent your business look, instead of taking it over. Obviously, the style that you should find for your business watch changes with the strictness of dress code in the workplace, but for those elegant offices, the smaller and more serious the watch, the better.
If you're trying to decide which of the watches on this list aren't a complete necessity, the business watch is okay to sacrifice, as long as either your dress watch or casual watch can be up to a professional environment every now and then.
The Dress Watch
When we think of women's watches, I think that this is where our mind goes first: the deluxe watches that we see in jewelry magazines and jewelry stores that are encrusted with diamonds, pearls, and other precious gems. A dress watch tends to possess more intricate, elaborate designs, usually brought to fruition with expertly-cut jewels and metal.
Unlike the optional luxury watch that may only get pulled out once or twice a year, a dress watch can be worn at weddings, on dates, at cocktail parties, or even a weekend girls' night out. These watches are designed to be head-turners, with scratch-resistant crystals and gems set around the face. If you're still deciding on a color, choose gold or even white gold for a bolder statement, and for a daintier, more unique air, try the lovely pink hue of rose gold.
Furthermore, these watches are the ones that are elegant and timeless. They're the ones that are passed down from generation to generation, the ones that look like they could've come from the royal family themselves. Women will notice that dress watches typically are made with more expensive materials, like genuine leather straps, elegantly molded metal bracelets, or ethereal gemstone bracelets.
Conclusion
Watches are like glasses or shoes. Having a watch that matches your outfits and styles will make your outfits go an extra mile of style points. The honest answer to the question: "How many watches should I have" all depends on how stylish you want to look and how much you can afford.